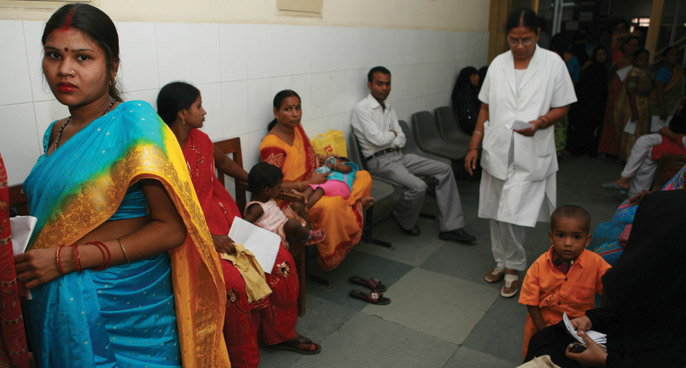 Anemia is a contributing factor in 40 percent of maternal deaths in India, where Hugh Chang, '05, of PATH is working to build an equity fund that could develop a way to screen pregnant women. Photo by Rajesh Kumar Sinjgh / AP Wide World Photos


Using business, medical and engineering smarts, UW alumni are solving medical problems in Washington and beyond
For most American women, screening for cervical cancer is as routine as an annual Pap smear. Regular screening is essential because early detection is critical for successful treatment. But for women in poor, rural areas, whether in Washington state or Africa, screening may not be available. That's why every two minutes, a woman in the world dies of cervical cancer.
Devising cervical-cancer screening for women living in remote or destitute areas is just one of the challenges facing University of Washington alumni who specialize in the development of drugs and medical technology to diagnose and treat conditions ranging from cancer to meningitis.
For decades, alumni and other scientists connected to the UW—with their expertise in medicine, rural health, business and engineering—have played key roles in turning research ideas into patient-care reality. Four scientists with ties to the UW who have traversed the often-rocky terrain from concept to clinic share how they have made an impact in the state of Washington—and around the world.
Health-care technology and drug development are significant drivers of the Washington state economy. According to the Washington Biotechnology & Biomedical Association, approximately 67,000 people were employed in the state's biopharmaceutical sector in 2006 (the most recent year records are available). Moreover, the industry accounted for more than $10.5 billion in economic activity—including $1.6 billion in wages—in Washington state in 2006.
The role of niche products
One of the more successful people at turning ideas into drugs to help mankind is pulmonologist A. Bruce Montgomery, '75, '79. He was responsible for efforts that led to five drugs being approved by the Food and Drug Administration, including the second drug ever approved to treat certain forms of pneumonia in AIDS patients, aerosolized pentamidine.
This year, the FDA approved his new inhaled antibiotic to treat cystic fibrosis, Cayston. As a Seattle-based consultant for Gilead Sciences, Inc., and an expert in bronchiectasis—a chronic condition in which damage to the airways prevents the cleaning of mucus—Montgomery is now entering the marketing phase for Cayston, which treats bronchiectasis, which affects about 100,000 Americans.
Montgomery relishes the puzzles in the process of taking ideas to fruition, such as figuring out the size of holes in the aerosol dispenser's nozzle to make sure the antibiotic mist floats into the lungs and doesn't get trapped in the back of a person's throat.
"I look at it as a physician," he says. "What is needed to improve the care of patients? I'm not interested in making minor improvements on existing treatments. I want to be able to offer a treatment where there is none now—niche products."
Montgomery attributes his success to his multidisciplinary training (he has both his bachelor's degree in chemistry and his M.D. from the UW)—as well as his ability to keep his physician's eye on patient needs.
"I ask myself two questions: How can we do better for the patient? And what would prevent this concept from working?" he says. "I can impact the lives of more patients as a serial entrepreneur than I could have seeing individual patients in a clinical practice."
Although the drugs he has helped develop are primarily targeted for wealthier Western markets, he understands the global picture takes into account more than just medical treatment. "If you don't have a stable health-care system, you won't have a stable economy," he says.
Making business work for health care
As director of special initiatives for Seattle-based PATH (Program for Appropriate Technology in Health), Hugh Chang, '05, leads a team that identifies critical health problems around the world, and finds funding to address those needs.
These efforts often are public-private partnerships and might focus on the need, for instance, for a meningitis A vaccine in central Africa or cervical-cancer screening tests in remote areas of Nicaragua.
Chang, a tall, slender man in a well-pressed oxford shirt and khakis, is expertly suited to his role. Armed with degrees in electrical engineering, an M.B.A. and a master's from the UW in bioengineering, he has the ability to tackle public-health problems from several angles.
Chang's role is to bring together moving parts—political will, financing, scientific discovery, manufacturing and infrastructure —to solve a key social problem while providing a financial return that enables sustainable delivery of the solution.
For example, Chang identified a lack of equity financing as a critical missing link for global health. He is working with potential investors to establish an independent, for-profit equity fund targeting investments in start-up companies in India. PATH will assist the fund by helping to evaluate the potential global-health impact of a company's technology. One example is a simple way to screen pregnant women in rural areas for anemia, which contributes to 40 percent of maternal deaths in India.
"The idea is to assist local innovators in creating solutions that fit within the Indian context, especially at the lower rungs of the economic strata," Chang explains. "If the company has the potential to create local products that meet a health need, it has the potential to grow and meet similar needs in similar economics. Jobs and a healthy work force expand."
India is a country with an expanding life-sciences industry, strong capital markets and where PATH has had a longtime presence. Creating products that meet the needs for rural Indian populations holds significant potential for the rest of the developing world.
The role of the marketplace
The same business attributes that attracted PATH to India enticed General Electric's interest in China in the early 1990s: a fast-growing economy, a strong education system, and manufacturing infrastructure to support expansion.
Thus, when GE was ready to expand its research and market operations abroad, it chose China as its new manufacturing base and market to build medical imaging systems.
"The marketplace drives medical device development," says Lewis S. (Lonnie) Edelheit, retired senior vice president for Research and Development at GE and a member of the UW's Physics and Bioengineering Advisory Board. "First, you start manufacturing in a country and then you can sell the product to them. You have to help build the local economy.
"Politicians in developing countries understand the value of increasing health-care expenditures. Economic growth depends on health-care expenditures. Economic growth depends on a healthy work force. China wanted the jobs and the health-care technology GE offered."
GE has the flexibility to build medical imaging systems all over the world. It can also design systems for use in the local markets that they serve. High-end systems are built in more affluent areas such as the U.S., Japan and Europe, while lower-end systems costing much less are built in India and China.
Affordable diagnostics for developing countries
Bernhard Weigl, a burly Austrian with a quick wit, traveled to almost every state looking for the best place to do a postdoctoral fellowship before he settled on Seattle and Paul Yager's lab in the UW Department of Bioengineering.
He is now principal investigator for PATH's Center for Point-of-Care Diagnostics, which works to bring affordable diagnostic tests to poor countries of South America and Africa, where reliable electricity, refrigeration and health care are scarce.
His challenge: developing inexpensive screening devices that don't require sophisticated lab analysis or refrigeration, and are easy to transport.
For women in rural Nicaragua, China, India and Uganda, he is advocating the use of two new tests for human papillomavirus (HPV), an early predictor of cervical cancer. The World Health Organization supports HPV testing to fill gaps in geographic regions where Pap smears are not feasible.
"A hundred thousand women in developing countries die unnecessarily from cervical cancer each year because they do not receive early screening and treatment," Weigl says.
"Cervical cancer is absolutely preventable if it is detected early enough, but Pap smears are not workable in these environments."
Not only are there no physicians to administer tests in these poor, remote areas, or labs to analyze the results, but there are no reliable medical record-keeping systems to track patients who need routine screening.
"Many of the same issues that are of concern in developing countries—turnaround time, ease of use for lower-trained providers, lack of timely access to a central lab, lack of patient follow-up—arise in rural areas and disadvantaged urban areas in the U.S. as well," Weigl says.
His group's START-UP program developed two valuable technologies. The first, CareHPV, is a molecular test recently evaluated in Shanxi, China, and India through the screening of more than 20,000 women living in rural areas. This test is inexpensive and it requires less equipment than a Pap smear.
The second product, a strip test called Arbor Vita E6, is designed to detect a viral protein that appears in precancer stages. In the strip test, blood is placed on the end of a strip pad and the blood wicks along the strip where a chemical reaction indicates positive or negative results. This blood test can actually tell whether a woman has an HPV infection that may spontaneously clear up or one that has begun to develop precancerous cells.
Countries such as India, Nicaragua and Uganda—where demonstration projects are under way—are looking for more evidence that the latter test would work within their health-care systems as well as their economic and cultural restraints. In the meantime, service providers in India are being trained in triage and treatment techniques.
If successful, HPV testing could provide a lower-cost and easier-to-use alternative to Pap smear screening and drastically cut cervical cancer deaths, thus continuing the cycle of medical innovation to improve lives and boost economies that often starts with a graduate of the University of Washington.
—Nedra Floyd-Pautler, '70, is a Seattle freelance writer and former writer, editor and Web information architect at the UW