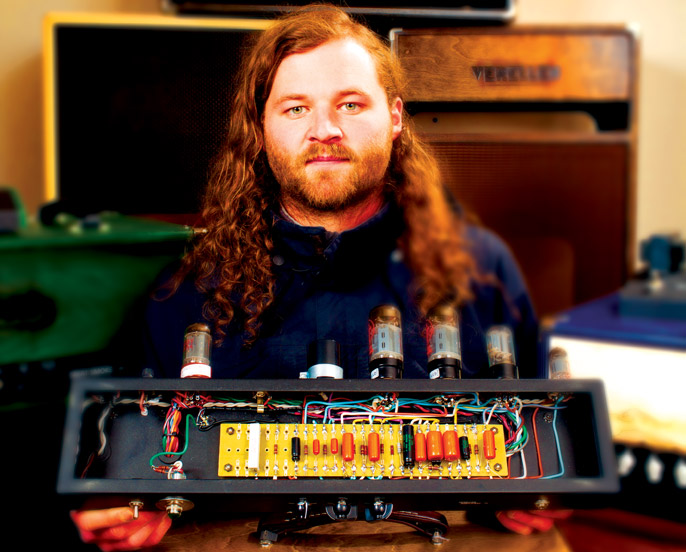 From his Fremont shop, Ben Verellen, '08, is working on commercial production of his Verellen Amps. Photo by John Keatley.
Ideas generated within the academy are creating real-world revenue
Oren Etzioni was frustrated.
"You know how it used to be you'd buy an airline ticket at $400, then two days later it would drop to $300? Or you'd see a ticket at $400 and decide to wait a couple days—and it would go up to $500? It was crazy," Etzioni recalls.
It still is, actually; the airfare market is as inscrutable as ever, subject to the oscillations of an arcane business math known as yield management. But Etzioni, a University of Washington computer sciences professor who understands arcane mathematical systems, decided to do something about the situation. After investigating the innumerable factors that affect airfares, he devised a research project attempting to predict what airline ticket prices would do over time, and demonstrated it was possible. Not infallible, but accurate a large portion of the time.
"Lots of people said it couldn't be done, but we did it. I published a paper on the topic and got a lot of attention, and that's when I realized I'd struck quite a nerve with the traveling public," Etzioni recalls. "Everybody had the same complaint."
Welcome the axiom that every problem is also an opportunity. Etzioni's research was the genesis of Seattle company Farecast, which blazed onto the scene in 2003, garnered a huge amount of national attention, operated independently for a few years, and then was bought by Microsoft in 2008 for $115 million. Now it's one of the centerpieces of the Redmond software giant's new Bing Travel website, Etzioni is back to full-time life as a computer prof at UW, and Farecast has joined the long pantheon of successful businesses born and bred on the shores of the Montlake Cut.
With the largest federal research budget in the United States—more than $1.4 billion a year—and thousands of professors, staff members and researchers devoted to exploring a multitude of topics, it's no surprise that interesting ideas crop up on a daily basis at the University of Washington. One cannot turn every new discovery or concept into a business, but UW technology-transfer commercialization officials count more than 100 startups attributable to University research. These range from huge and well-known companies to obscure, modest enterprises to virtually unknown technologies that have been licensed for use around the world.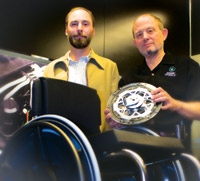 Design engineer Cisco Sabin and Magic Wheels founder Steve Meginniss (right) show off a wheel assembly.
Photo courtesy Magic Wheels
Biotech is a particular area of strength. Research at UW led to the creation of Immunex Corporation, whose drug Enbrel was one of the first bio-engineered drugs and found a global market alleviating rheumatoid arthritis and psoriasis. Immunex was acquired by bio-pharmaceutical giant Amgen in 2003, but the company lives on in Seattle in the form of the vast Amgen research campus on the north Elliott Bay waterfront.
Virtually unknown to the public, but critical to much of modern medicine, is an even bigger UW biotech discovery, genome sciences professor Benjamin Hall's creation of a yeast that is crucial to production of many modern vaccines. This process has been licensed to numerous pharmaceutical companies around the world and typifies a lesser-known aspect of research commercialization: technology licensing. In 2009, the UW's Center for Commercialization (C4C)—formerly the Office of Technology Transfer—entered into 220 commercialization license agreements that utilize UW technology. And they find that the recession has made academic research even more desirable to for-profit businesses.
"A university is where the greatest technical expertise is found," says Linden Rhoads, '02, vice provost of C4C, herself a former technology entrepreneur. "And most of the ideas that come from the U have already had millions of dollars of research funding invested in them. This is something the private sector can't and wouldn't do, plowing money into years of research. So now we have a capital climate that favors excellence."
Furthermore, now the University climate favors startup entrepreneurship over the old emphasis on simply licensing technologies to existing companies. Rhoads says the UW has been eminently willing to adapt its policies to stimulate innovation; for instance, by relaxing arcane restrictions on conflict of interest that used to hinder academic involvement in business enterprise.
Today C4C focuses largely on helping University innovators create startup companies. Rhoads says it's not only fun for C4C's clients, and beneficial to the University, it helps draw and retain good faculty members to Seattle. The agency has a staff of about 50, manages more than 2,200 patents and helped UW innovators earn $12 million in 2009 for the licensing of their work. That year they also added $20 million in revenue to the University's Royalty Research Fund, which supports new research. The C4C filed 260 U.S. patent applications in 2009; that year 40 U.S. patents were granted based on applications from previous years. And, not least, C4C helped UW community members produce real business rather than just papers, and boosted their ability to let their minds wander the paths of intellectual exploration almost anywhere.
Engineering professor Minoru Taya, for example, years ago found himself musing over the way cucumber vines attach their tendrils to trellises so they can climb—and he turned that into a new shape-memory alloy with a magnetic gradient. Its initial customer is the Pentagon, but it may find application in everything from aviation to artificial limbs. "When I tell people I took my inspiration from cucumbers, they love it," Taya says. "It's exciting to create something from nothing. And academics like to see their ideas and discoveries turn into tangible enterprises that help make the world better," Rhoads observes.
So do community entrepreneurs. After helping turn a UW idea into Sonicare, one of the most successful dental care innovations ever, Seattle engineer Steve Meginniss was looking around for something else to do. So he literally headed over to the School of Engineering seeking ideas, and encountered four nascent mobility-improvement projects that intrigued him. After a long process of market research, grant-seeking, design and redesign and gathering of investment capital, the end result is a Queen Anne company called Magic Wheels. Its remarkable product is geared wheelchair wheels that enable users to climb hills much more easily.
"At one point in the long (almost 10 years) process, reviewers at the National Institutes of Health told me such a chair wasn't possible. It can't be done. Well, that really gets me going," says Meginniss, a voluble sort who believes the key to the chair's viability is not only the geared wheel, which in effect downshifts the chair while going uphill, but a catch that keeps it from rolling back in between the user's wheel-turns.
So far, more than 400 pairs of wheels have been sold, and in January of last year wheelchair athlete Erica Davis used Magic Wheels to become the first female paraplegic to reach the summit of Mount Kilimanjaro.
"Magic, yes?" says Meginniss.
Most entrepreneurs would say the real magic in turning research into revenue lies in shepherding an idea through the various stages from initial concept to actual business. Research funding helps answer the initial question, such as Etzioni's desire to know whether airfares could be mathematically predicted. Then, so-called "angel capital" helps startups move from the kitchen table to the small-shop phase; venture capital kicks in when production, marketing and distribution must be engineered. For University-based entrepreneurs there's a gap in this path known as the "valley of death, " in which many promising ideas fail to make the leap to commercial success. This is the arena in which C4C has been focusing its efforts lately.
For instance, civil and environmental engineering Professor Mark Benjamin discovered a way to make water filters better and more efficient by utilizing aluminum oxide particles. While the technology is still in the lab, success could be fundamental for global health. C4C provided a Gap Fund award in 2008 that helped Benjamin continue proof-of-concept work essential to demonstrating the technology's viability in the field; commercial application is still down the road but nearer as a result. And given that clean drinking water is a desperate need for hundreds of millions of people around the world, an effective filtering technology could be both a commercial and a humanitarian boon.
Meanwhile, other UW researchers are working on technologies minimizing the amount of plastic needed to make insulated cups; improving diagnosis and treatment of atrial fibrillation; refining gene-specific cancer drugs; extending the life of touch-screens; helping airplanes save fuel by following more efficient navigation routes; and providing better diagnostic images of the arterial plaque that can cause strokes.
In one example of how appealing entrepreneurship can be, electrical engineering Professor Shwetak Patel's energy-monitoring systems firm, called Zensi, was sold to network equipment-maker Belkin last April. Patel is also currently commercializing other research around ultra-long-life sensor batteries—which are so low-power they could run for up to 50 years.
Not every UW-born business is built on new technology. Former engineering student Ben Verellen, '08, in fact, turned back the clock when he posed a question to one of his electrical engineering professors while at the U: How do you design and build vacuum-tube amplifiers?
But wait—aren't we in the digital era? Why would anyone want to go back to the technologies Jimi Hendrix used 40 years ago?
"Tube amps just sound better," explains Verellen, who is a musician himself. (Verellen is guitarist and singer for the band Helms Alee.) "There's more character to the sound. And if you're looking for distortion and feedback, transistors just don't do the trick at all."
Verellen convinced engineering professor Brian Otis, '99, to sponsor a project in which he created circuit designs for a simple tube amplifier. After that he studied various production and design techniques, and three years later, he is the founder and president of Verellen Amplifiers, a small, Fremont-based custom-amplifier maker that has sold more than 200 amps. The basic model, "Meatsmoke," looks like what you'd see if you opened the back of a 1960s-era television.
While an amplifier may seem like a straightforward artifact to the layperson, Verellen says design parameters are practically infinite.
"You can change this or that, or the other thing, and every single design item has a sonic consequence," he explains.
Verellen's are custom amps used primarily by underground punk rock bands, though one is owned by a member of the Foo Fighters, a high-profile Seattle band whose genesis traces back to Nirvana. Verellen is moving from custom work to a production model he hopes will take his company to the next level of business viability.
Rhoads is quick to point out that, aside from helping UW researchers achieve the thrill of entrepreneurship, bringing in revenue and helping make human life better, UW-born startups create jobs and boost the economy in Washington state. Verellen employs one production assembler for his amps; Magic Wheels has a staff of 12; dozens of researchers work on the next new drug at the Amgen labs downtown. While Microsoft remains the birthplace-hub of the greatest number of technology startups in the state, the UW is second, and that count doesn't include biotech. All those companies are drawing in venture capital (which often comes from out of state) and employing local residents who may or may not include their creators.
Etzioni, for one, no longer has any association with Farecast. But he certainly is proud to be known as the initiator of the company. "I tell people, that's my baby, every chance I get." He's currently involved in several other projects not yet ready for public visibility, and is above all gratified that his position at the UW enabled him to answer such an arcane question as whether airfares can be predicted.
"The obligation of venture capitalists is to make money. My professional obligation is to satisfy my curiosity.
"Curiosity-driven research—it's a wonderful thing."
—When not covering campus for Columns, freelance travel and business writer Eric Lucas can be found on tour of the world.