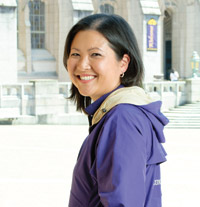 As a lifelong Husky who grew up near the Seattle campus, I have benefited greatly from my connection to the University of Washington. My family is a UW family, my parents attended the UW, and my hope is that my 4-year-old son can enjoy a UW experience that is equally meaningful.
The UW impacts lives across the state, the nation and our world. But this global reach has local roots. From the University District to the vineyards of Walla Walla, the UW strengthens our state economy and transforms our culture. More than 213,000 UW alumni live, work and play in Washington state, making it clear that Huskies are staying here to create jobs, raise families and make our region even stronger.
That's a big reason I got involved with the UW Alumni Association. With more than 50,000 members, there is strength in our community, and I encourage alumni everywhere to join together in communicating the value and impact of the UW. As a lifetime member, I believe in the UW Alumni Association's mission, vision and values. Membership is an avenue for alumni and friends to get involved, and you can learn more at UWalum.com/membership.
Interim President Phyllis Wise is focused on the UW's most significant challenge–working with elected officials and business leaders to develop a sustainable funding model for the UW. Her Two Years to Two Decades initiative will lay the foundation for our shared future, and we as alumni can reinforce the fact that the University of Washington and higher education is part of the solution. So talk to your friends and family and share your stories about the UW's impact.
The UW has changed my life and many others. Now is our opportunity to give back.
Sincerely,



Colleen Fukui-Sketchley, '94
President, UW Alumni Association