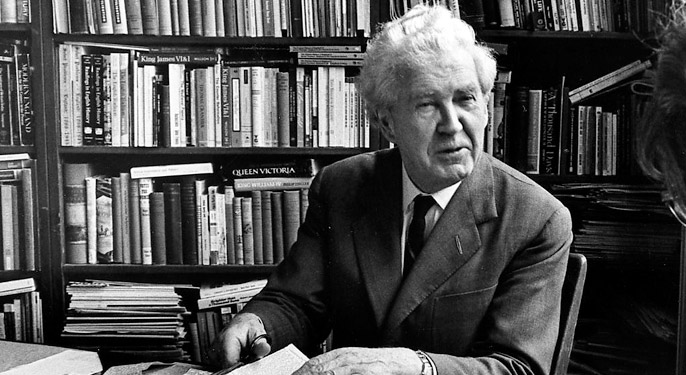 Giovanni Costigan taught the popular History Lecture Series for 15 years.
Photo courtesy of John A. Moore
For nearly four decades, winter in Seattle has meant wet weather,
celebrating the holidays and coming to the University of Washington for history lectures presented by the UW's best professors.
This winter, the UW Alumni Association and UW Department of History are hosting the 36th annual History Lecture Series. Robert Stacey, professor of history and divisional dean of Arts and Humanities, will focus on the medieval origins of the modern Western world.
One of the UW's most popular lifelong learning programs, the History
Lecture Series began in 1975 and for 15 years, it featured History Professor Emeritus Giovanni Costigan, the first recipient of the UW's Distinguished Teaching Award, in 1970.
A tireless humanitarian and outspoken opponent of the U.S. war policy in Vietnam, Costigan was forced to retire in 1975 due to a state law that prohibited college professors from teaching past the age of 70. A public debate ensued, and the UW Alumni Association created a lecture series to give Costigan the opportunity to continue teaching, which he did until he died of a heart attack in 1990.
Two years following Costigan's mandatory retirement, the state Legislature passed a bill widely referred to as the "Costigan bill" that permitted professors to teach after they turned 70. When Costigan died, the UWAA looked again to the History Department for Costigan's replacement and found a gem in now-retired Professor Jon Bridgman.
Bridgman taught the popular series for
16 years, exploring topics ranging from the history of the movies to the Japanese involvement in World War II. Today, the History Lecture Series remains an important part of the UWAA and College of Arts & Sciences lecture season—and one more reason to look forward to winter.
—Derek Belt