New in Columns:
Transgender students
find a safe haven at the UW; Thanks to the UW, retiring
dancers
can leap into a new career: mentoring the generation waiting in the wings; The new dawn of
innovation
at the UW is built on collaboration, education—and service to humanity;
UW Press
owes its enduring success to the practice of one simple philosophy: telling stories.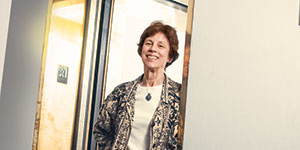 Wylie Burke is a leader in genetics ethics, but her ability to relate with kindness and compassion lies at the heart of her exceptional career.
Read more
.

Flip through the
entire issue
online using our new digital magazine software. You browse through the pages just as you would the printed version.