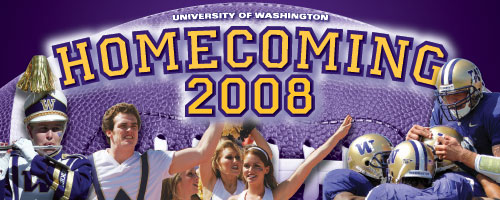 2008 Pride in 5 Contest
Thanks to all who were part of the 2008 Pride in 5 contest! Check out our winning videos below.
Here's a chance to showcase your Husky Pride—a very brief snippet of it, anyway. Take a tiny bite out of your 15 minutes of fame by entering the UWAA's "Pride in 5" competition. Submit a 5-second video showing us your true colors (provided they're purple and gold, of course) between Sept. 10 and Oct. 13. Prizes will be awarded, and the winning entry will be announced at the 2008 Homecoming Rally.
Why enter? Well, the top 3 video get cash and everyone who enters is eligible to win one of three $50 gift cards to University Book Store. All the finalists will also be shown at the 2008 Homecoming Rally and on the Huskytron during the Homecoming football game, assuring your eternal glory. Those are nice, but, really, it's all about Husky Pride.
The Winner
Congratulations to everyone who took part in the Pride in 5 contest!
1st Place - "Husky Pride Lives 24/7"
Ben Brackett & Jenny Bragg took home the $200 prize for the best Pride in 5 video!
2nd Place - "Husky Pride in New York"
The second place video by Carrie and Kevin Hicks came from all the way across the country!
3rd Place - "Sigma Kappa's Husky Pride"
UW's own Sigma Kappa sorority claimed third prize.
See the Pride in 5 rules page for detailed rules and more information about the contest.
Questions? Contact the UW Alumni Association at uwalumni@uw.edu or 206-543-0540.