Husky Night with Brandon Roy
Paint the Rose Garden purple and cheer on former Husky All-American and NBA All-Star Brandon Roy as the Portland Trail Blazers face Kevin Garnett, Ray Allen and the rest of the Boston Celtics. UWAA members get discounted tickets for the game and can win a chance to have their photo taken with Brandon. We'll also have a pre-game networking dinner to connect with other Huskies in Portland. Afterward, there will be an exciting Q&A with Brandon lead by KJR 950's Dave "Softy" Mahler for all those who purchased a ticket.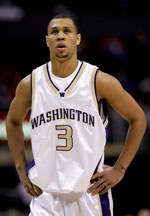 In addition, every UWAA member—and new members who join at the event—will receive a free Brandon Roy bobblehead. Check out our membership table for all the details.
Don't miss this exciting behind-the-scenes event for UW alumni and friends.
When: Friday, February 19, 2010 vs. Boston Celtics
7:30 p.m. tipoff at the Rose Garden
Cost: Tickets start at $30; dinner costs $19.
Thank you for your interest in this event. There are no more tickets remaining. For information on other UWAA events in Portland, please visit the Portland chapter page.
If you have any questions about ticket orders or other event details, please contact our Trail Blazers representative Blake Wehling at 503-963-3964 or blake.wehling@trailblazers.com.
A networking dinner tips things off at 6 p.m. UWAA members have the opportunity to participate in a raffle to win an exclusive photo op with Brandon Roy.
As an added bonus, the first ten people who sign up to become new UWAA members receive a signed piece of Brandon Roy merchandise.
Seat Locations and Pricing
When ordering the special discount tickets, you can choose between the Purple, Yellow and White price levels. Purple seats are $30 (regularly $49) and are located in the 300 level. Yellow seats are $65 (regularly $85) and are located in the 200 level. White seats are $175 (regularly $185) and are located on the 100 level near the court. Note: A $5 processing fee is applied per order. View the seating chart to see the locations.
Note to Attendees
The 5:30 p.m. pre-game dinner takes places in the Georgia Pacific Room (located on the event level of the Rose Garden). We'll meet 5 minutes after the game at Entry A18 in the concourse and head down to the floor for a special event.
Location and Directions
The Rose Garden is located at One Center Court, Portland, OR 97227. Visit the Rose Quarter Web site for more information.