Table of Contents

Previous Chapter
The predominant networking protocols for world-wide internetworking are the TCP/IP protocols

UW campus backbone only routes IP traffic

The Domain Name System (DNS) is used to reference hosts instead of IP addresses (e.g., rtfm.mit.edu)

UW campus is subnetted (128.95.subnet.host)

Subnets are connected by routers (campus standard address for gateway router is 128.95.subnet.100)

Individual network connections within the building are usually served by ethernet multi-port repeaters (empr)

The campus backbone is part of NorthWestNet, one of many regional network access providers who in turn connect to one of many national networks (NorthWestNet connects to MCInet).

You can find information about the Internet at many sites. Try looking at what is stored at ftp.merit.edu. Here are some other interesting statistics on the Internet.

This diagram shows an example of a subnetted network.

Here is a description of the technical details of Ethernet networks. The most common topologies on this campus are:
Star (e.g., twisted pair ethernet, or 10BaseT). This is the type of network technology currently recommended by C&C and what we would install today.

Bus (e.g., thin ethernet, or 10 Base 2). The older standard for inexpensive Ethernet networks, but still found in many places on campus.

Ring (e.g., Token Ring, FDDI, CDDI)

Host name + Domain = Fully Qualified Domain Name

E.g., host stimpy in domain cac.washington.edu has a fully qualified domain name (FQDN) of stimpy.cac.washington.edu
Host name set in rc files using hostname command


# hostname ren

Resolver configuration file is /etc/resolv.conf


domain cac.washington.edu
nameserver 128.95.120.1
nameserver 128.95.112.1
nameserver 128.101.101.101

DNS is not related to Sun's NIS/NIS+, although they can work together.

SunOS 4.x: get replacement libraries from ftp.cac:/pub/sun-fix. SunOS 5.x users need to modify /etc/nsswitch.conf.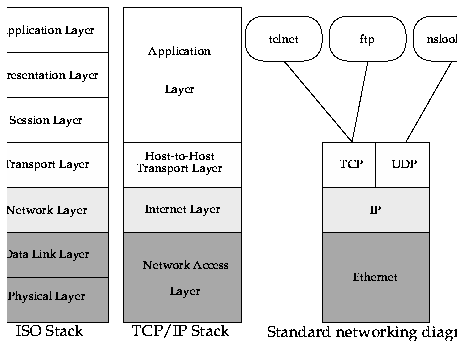 To force inetd to reread its configuration file, send it a -HUP signal, like this:

# ps -aux | grep inetd
root 111 0.0 1.7 1.44M 344K ? S 0:00 (inetd)
root 4451 0.0 1.0 1.52M 208K p2 S 0:00 grep inetd
# kill -HUP 111 # ...for BSD
# killall -HUP inetd # ...for System V

/etc/rc or /etc/rc.local
Here is an example of the part of the /etc/rc.local file that configures the ethernet interface.

Make entry in /etc/hosts for your host and IP address

Register your DNS name
(Get IP addresses and Domain Names from your departmental network administrator, or from campus network administrators by sending email to netops@cac.washington.edu )

Set up the DNS resolver configuration file

Make sure the netmask is 255.255.255.0 (0xffffff00)

Make sure the broadcast address is128.95.subnet.255 (use 128.95.subnet.0 for Sun computers)

Here is an example of setting up the network interface for a Sun computer.
telnet

ftp

rlogin

rsh

rcp

rwho

ruptime

Anonymous ftp
Log in as user name of ftp or anonymous, and using your email address (e.g., name@host.dept.washington.edu) as the password.

gopher/xgopher

archie/xarchie

Xmosaic

WAIS
These utilities and facilities are described in detail in Whole Internet: User's Guide & Catalog, Internet Companion: a Beginner's Guide to Global Networking, and Internet Passport.


Table of Contents

Next Chapter